On a recent trip to Fortuna, Ca I was fortunate enough to do what I love best.... Visit antique stores. I went to the beautiful & quite historic town of Ferndale with my mother in law ( quite fabulous I might ad as I adore her ) and browsed the shops hoping to find that special little something I totally do NOT need more of. Now anyone who knows Ferndale knows it's a lovely town filled with the utmost gorgeous Victorian homes. I was sure to find a treasure among so many old homes right?
Nothing. Not one single thing called my name. How rude eh?
On our way back we stopped into a lil Antique mall. Where? In Fortuna.. right under my nose the entire visit. Pfft. But to my delight it was a WONDERFUL little mall filled to every nook and cranny with old delights. From dishes, dolls, paintings and pinups. You name it and this little place had it. So many things that screamed ME ME ME take ME pick ME!!! Sorry all I said.. you're cute but you're not what I am looking for.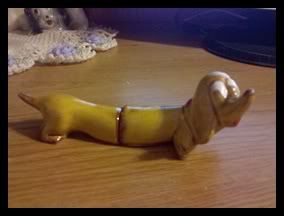 About to give up and go empty handed I spied this lil man on a shelf.
He said "Me?" and I said.. "oh my yes you!!!" I swiped him up and trotted off to the cashier beaming like I had found gold. My mother in law must think I'm nuts the way I carried on. Ha. :)
So 18 bucks + tax and I toted him off.
What a handsome fellow he is. Almost ugly.