I often find myself out in the garage or yard area doing something that doesn't involve the weens but they want to be where I am. I had originally constructed a little hidy hole with blankies they could snuggle in which they didn't seem to mind but I never dared to take a photo of it as it was an abomination to creative minds all over. So this morning while I was out dinking around in the garage I looked over at said abomination and thought. I can do much better than that.
So hence the title of this postie. The Redneck Dox Box.
You'll get it when you get to the next paragraph. Ha!
I will always try to figure out a way to create something out of things we have on hand before I waste precious time, energy and GAS $$ to drive 25 + miles miles north or south to the bigger towns. I believe in up-cycling. Sure I could have bought an actual Dogloo

(yes the word Dogloo is a

linky

... ) You will see why I chose not too.
I had a very large tote that the lid had busted on long ago but it was still handy for things so we had kept it.
What to do with an old large tote? Why cut a hole in the side of it of course. No lid? Well heck, we can fix that too. This summer led me to the dump of all places as I was trying to find a grate to put over our fire pit. We don't have the store bought fire pit. We have the real kind, dug into the dirt, lined with rocks and such. It's big. We could roast 5 Weenies over it if we wanted to. The Nathans kind preferably. But we could NOT find a grate for it. Walmart carries the smaller pit style grate kind but our pit ate it up. So .... nothing like a little old upright freezer to supply what we needed. For free. So that got plopped on top and topped off with an old front door greeting mat that has long since faded and the "wipe your paws" wording a piece of history. Place old blankie in and you've got a little weenie roasting sauna going on.
Tobias was the first to inspect...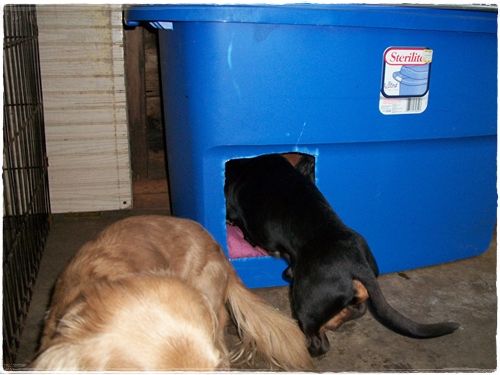 Then Molly ..
Coming back out.. Mishka still wasn't sure.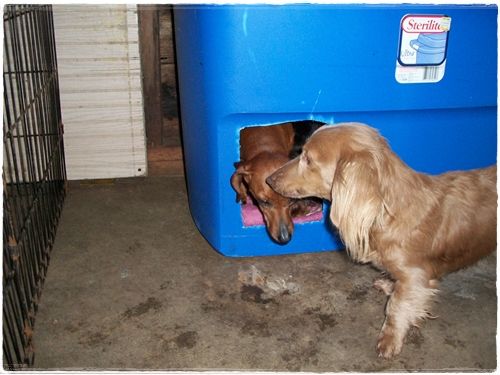 Gentle persuasion with Shiloh as he is blind but if you look closely you can see his butt in the opening. He got it really quick and nested right away.
Peeking in ... I see no complaints ... they kind of reminded me of how puppies are in a little box all cute and bouncing up to say "pick me pick me!"
The end..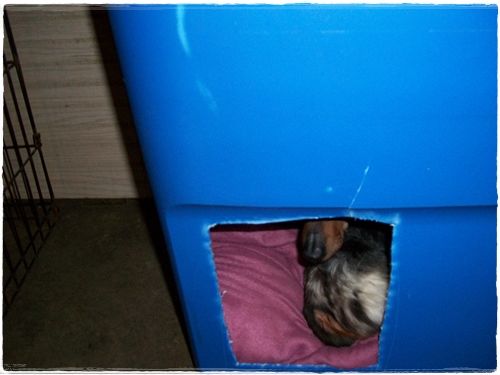 Th

anks for peeking. :)