Call it a community outreach. If you can help, if you want to help. Either contact me via
E-mail
or through the vet link:
Animal Hospital, Inc.
Fellow bloggers please feel free to cross post this if you wish. The more we can reach the more help this sweetheart can possibly get. Xo ~ Sarah
What a sweet little girl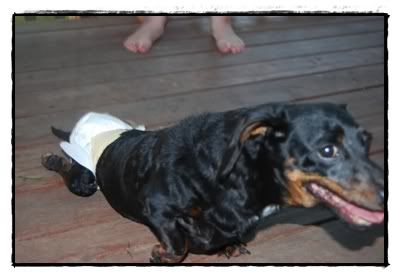 As told by Kelly a fellow member of Dachsie.org.
Precious's story came across to me on Friday June 9th, I at first closed the window since I had to get to sleep for the next morning for the annual Dachshund picnic and I had so much to do prior so the dogs would be ready and I had everything packed up.
After closing the window I looked down and Speed Racer my downed doxie who I have had for 3 1/2 years now...he was giving me that puzzled look like he knew what I had just read and he was asking why I would not save her...So I got back on re read everything and saw that I was going to be in the same exact area as Precious that next day after the picnic. I posted I would take her and went to sleep...I could hardly sleep thinking about this girl in need and why on earth someone would want to give up such a dog. That morning I called the owner, she told me that she had a 2 year old daughter and one on the way, as well as 2 other dachshunds and could no longer care for Precious....I told her I was going to be in the area after after 4, she said she had a birthday party to go to at 4 and it would be an all night event....so I said I was on my way now and would arrive at her house around noon.
I got to her house and Precious and 2 other dachshunds came running to the door, the owner told me that Precious had been in this condition for 3 years (she is 4 years old), and that the much bigger older dachshund had jumped on her back causing this injury. She said she took her to the vet (though no evidence of this such visit was offered). Then as quick as I was in the house I was basically shooed out the door with Precious as if me taking her just ended her pain in the side.
I took Precious to my van in which my doxie crew of 5 awaited to sniff out the new visitor. I cuddled Precious to calm her which she was already calm and oddly me taking her from the home she has known all her life did not bother her at all, she licked my face and nuzzled in my arm.
I wanted to look her over to check for anything that could be harmful to my dogs, fleas ticks, ect...she was clean from those. But she sure smelled awful and needed a bath. I took in her mouth and was shocked at what I saw...her poor teeth were rotten and I could see the infection oozing out of many of her teeth, I wanted to vomit right then. I began to cry and ask myself how could anyone allow this to happen to an animal, even though I know such things happen all the time.
Precious got to enjoy the day in a stroller I had picked up that week for my dogs who needed a time out spot during the weekend. She met others from the board which her rescue plea was placed. She did very well despite the hot weather and the overwhelming amount of dogs barking and walking around...she must have though she had died and gone to dachshund Heaven...since there were so many around her with owners and lots of dachshund love.
The next day Precious got to enjoy a family outing with my 4 daughters, my husband and my parents as well as my dachshund Speedy. I was relieved how calm she was and how she seemed to just fit in.
That Monday was the dreaded vet visit which I knew was not going to be pretty.
She got her shots, her test for worms, heart worm test, she got meds for her ear which was infected, she also had an evaluation of her mouth and...the news was not good, Precious's teeth were in sever need of a dental and many of her teeth would need to be removed due to being loose and due to the infection just rotting the teeth. She also needed to be spayed, but could not happen because SURPRISE she was in heat and far into her heat cycle (ohhh nooo please do not let this poor dog be pregnant). I left the vet with the meds for her ear, her infection, the sores of her belly, legs, feet, thighs and an estimate of how much her spay and dental was going to cost...I was shocked to see that it was between $740-$1,200 with the higher amount the most correct for what needed to be done for this girl. She will lose teeth from canine to canine because they are all loose, she will lose many others as well and the money was not the shocker it was how bad her teeth were...and how a 4 year old dog could have such bad teeth I had 5 others at home ranging from 4-9 and not one of them had anything even close to this poor girl.
Wish List
Puppy Piddle pads ~ these are used for expressing her bladder and as a cover on her bed for leakage since she can not control her bowels or bladder.
Size 3 disposable diapers
Onsies & thin sleepers ~ size medium or 6-9 months size ~ these keep her from getting pressure sores also keeps her belly from rug burn and rashes.
Baby socks/booties...these keep her feet safe from bumps and blisters since they drag behind her.
Dog bath wipes ~ (or human bath wipes) these are used to wash off feet or private area before and after she needs to be expressed, since urine can leak on to her tail, legs & paws...this reduces infection and urine burn to these areas.
We appreciate any items. Funds towards vet costs and thermal hydro therapy which will begin soon.
Funds can be sent to the vet directly the name of Precious Mattiuz if anyone feels uncomfortable with sending to me....
http://www.animalhospitalinc.com/index.htm
Thanks so Much
Kelly
Precious thanks you as well!