doesn't mean you wont make friends.
Zoe and Shiloh, Independence Day
The Three amigos ...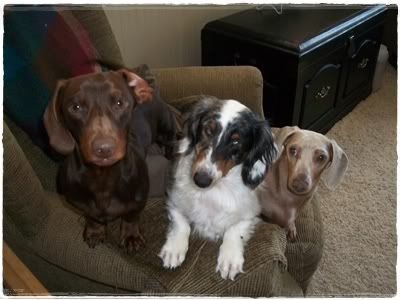 Shortly after the photo was taken they were on the floor beating the snootle out of each other. Molly, being the wise one, barked from the couch. Egging them on but staying out of teeth aim.
Shiloh has a way of making everyone love him. Even my Dad sat and petted him for a bit and my Dad is a Dachshund HATER. Getting bit as a child has it's effects on some I suppose. I'm converting him to the dark side slowly but surely. :)