To make a long story short ... I am having growing pains. The miracle of seeing my little girls grow up before my eyes is beyond amazing and wonderful and yet it is extremely bittersweet and painful to me.
Today was the big day. The crib came down and the bunkbeds went up. Ouch. At first I totally refused to let the crib come down. I wasn't having it one bit. So there it stayed while hubby worked at getting the BB together. But as I watched Emma's excitement over the "new" BB my guard wavered over the crib. She pointed to the lower portion and kept saying my bed, my bed? Pointing at the top, Zoe's bed? As I realized that their tiny room just wasn't a fun place to be if I tried to keep Emma little forever I caved and allowed the crib to be taken apart. I didn't stay to watch but I did come back in to rearrange, make the beds up and even sort through old toys.
So now .. my little girls are becoming big girls. As much as I love it. I kinda hate it. I want them small and innocent forever. *sigh*
So here's their new bed ... in such a small room you need a high rise for play space.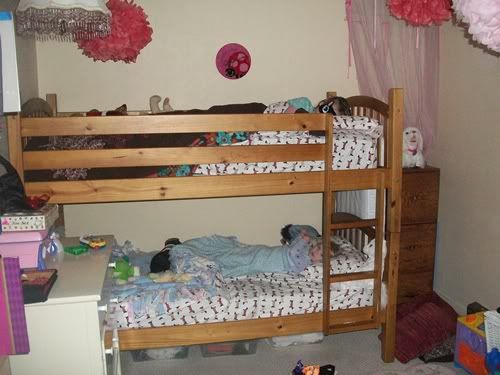 I believe.. they both approve.