I have never been one to go all out. We do not throw birthday parties with all the neighborhood kiddies or the entire classroom showing up. It stays simple, dinner with Grama and Grampa (they live the closest), decorations, cake and of course a few prezzies.
I am sometimes, I will admit, a little envious of the big all out bashes until I think about how exhausted the kids and parents are by the time it's all said and done. In the end how happy is everyone when you're pooped out? Oh and who really wants to look at the bank statement when those bashes are done and over. OUCH!
So here you have it .. cheap decorations. Due to a little letter we got in the mail that nearly gave me a heart attack ( 07 taxes had an overlook, yeah enough to make anyone have a touch of heart failure ) I decided to forgo the Sponge Bob decorations I had planned for Miss Emma this year. Sister got the fondant cake and I wasn't about to do that again so we figured Emma would get the fancy decorations. Well that letter ( thankfully on the way to be taken care of with a few phone calls and a fax YAY! ) made me rethink spending that bit of extra $.
A discussion between Daddy and I helped make the choice of ... if I could go to the store and find one for under 15 bucks we would go that route. Why not. Let them frost it! I had to run into town anyways. The kitties needed their grain free
Taste of the Wild
goodness. (never ever run out, kitties will nibble your toes!!)
Oh
Fred Meyers
, you have never let me down ... The moment I walked in a lovely
Red Velvet
cake said ... yes Emma would love me. ;) $9.99. YAY!!
Making my way back towards home I stopped in at the local thrift shop and found a Barbie table cloth new in the package for .79 and some lavender streamer for .39 ( hmms.. I have some pink left over from my Mom's birthday and some balloons from Zoe's that would match this. YES!! )
I decided NOT to put it on the kitchen table and cut it up a bit to use it around the living room more. ;)
First snippity snip made a smallish cloth for the coffee table since we open prezzies in the living room anyways..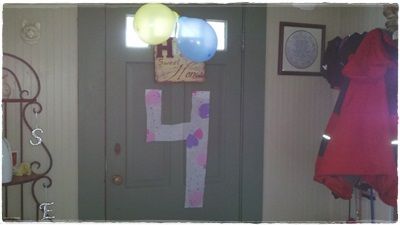 total cost out of pocket today: $11.17
had the left over balloons, streamer, sketti ingredients for dinner and kool aid. (her fave) ;)
Stress level = ZILCH!
Granted ... Emma is only 4.(as of yesterday)
I feel it's good to show them that it doesn't have to be huge to be a happy time. :)