Boredom often facilitates a drive north to go walk through the Antique stores. Usually.. there isn't a single thing I could touch price wise but I love to look. It's fun to see "new" old things and imagine where they once lived in someone's home. Was it a gift from Grandma, Auntie or Mom? Was the piece something special? Was it handed down ... or was it something they found that gave them a moment of pure Squeeeee at finding it.
But ... sometimes I find something within my price range and it's a squeee moment. Pure joy at knowing I can scoop something up and actually take it home with me. A new home, a new treasure to love. All mine mine mine.
So .. my latest.. $8.50, double sided taped onto a bit of cardboard. I nearly walked past it but upon closer inspection. Oh my .. Oh yes.. It was a Momma Ween and her 4 babies.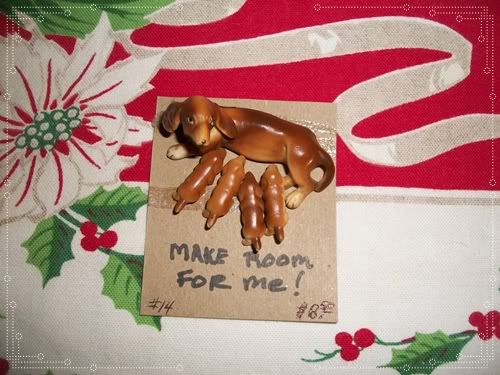 Now... I just have to figure out how to make her a little mini nest so she can nurse her puppies in comfort instead of being stuck to that bit of cardboard. ;)